NBP Donation
A special ceremony held at National Bank of Pakistan head office presided over by the President of National Bank of Pakistan Honorable Respected Syed Iqbal Ashraf Saheb.
The NBP President handed over cheques to several organizations including our CENTRE FOR DEVELOPMENT OF SOCIAL SERVICES-CDSS.
Rear Admiral (Retd.) Syed A. Baqar HI(M), Chief Executive, received check for sponsoring 35 students of CDSS/Korangi Academy. Mr. Swaleh Naqvi, Chief Advisor-CDSS and team from CDSS were present at this occasion.
We thank NBP for contributing in this noble cause established by Agha Hasan Abedi Saheb, Hilal-e-Imtiaz (Posthumous), a renowned banker and philanthropist.
PSO Donation
Corporate Social Responsibility (CSR) is one of PSO's core values and an integral part of the Company's overall mission. With operations across the country, PSO utilizes its scale of operations as a strength to positively impact the underprivileged people nationwide especially in the vicinities where PSO operates. By integrating CSR into its business strategy, PSO is helping to drive shared value amongst its stakeholders and enhance its corporate brand image amongst the general public.
Centre for Development of Social Services (CDSS) grateful to Pakistan State Oil (PSO), the nation leading Oil Marketing Company. Extending financial support to the project of CDSS in Lalabad, Korangi an underprivileged area by Co – Sponsoring 20 Students of Korangi Academy. This assistance will surly help CDSS to continue to provide quality education to the children of most deserving communities.
We look forward to PSO for lasting association with CDSS.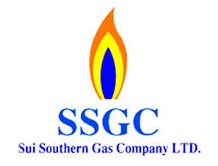 SSGC Donation
We thank Sui Southern Gas Company Ltd (SSGC), Public Listed Large Scale Company (LSC) and is a Pakistan's leading integrated gas Company for extending financial support to Korangi Academy by donating Rs.996,986/- for purchase of the following items:
A. Following computer equipment for the newly established classes of IV-C, XII-Pre-Engg. & XII-Commerce:
1. Three Projector Screens for Classes;
2. Three Viewsonic multi-media projectors;
3. Three Dell Ci5 3rd Generation Laptops.
B. Text Books for students of KA.
C. 142 Study Chairs for various classes of KA.
D. Two Iron Racks for Computer Stock Room
Donation Cheque Receiving Ceremony at SSGC  House. (2019)
At SSGC Head Office. General Manager Shahbaz Islam, presenting cheque to advisor CDSS Akbar M. Bilgrami at a simple ceremony in GM office. Others who joined are, from left Kumail Zaidi Programme Coordinator CDSS and from SSGC Deputy Manager – Sadaf Abbas, Deputy Manager- Syed Irtiza Raza, Deputy General Manager- Salman Siddiqui, Executive- Zuobia Sadiq, Management Trainee-Aamnah Khalid.

Our Corporate & Philanthropist Donors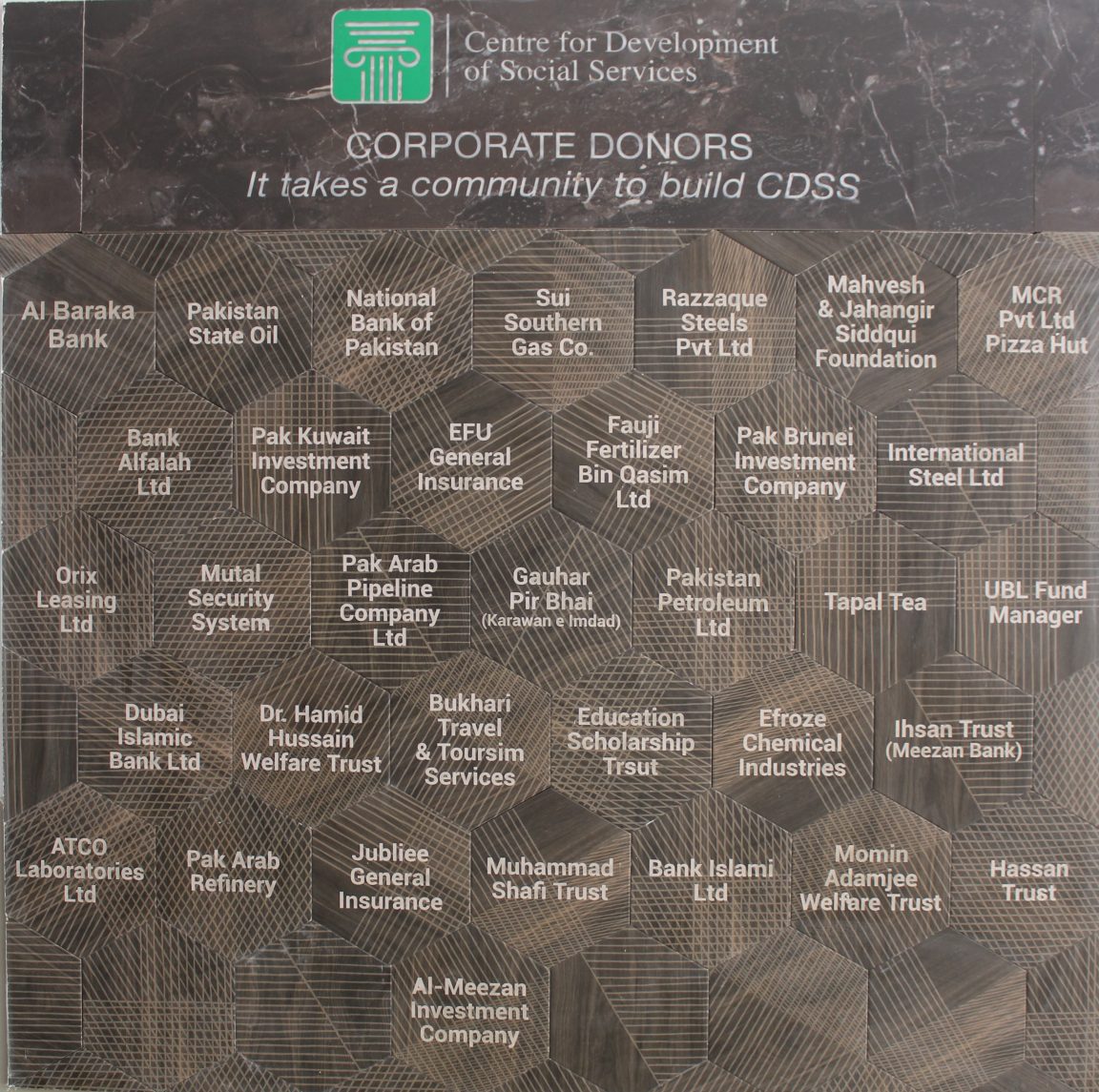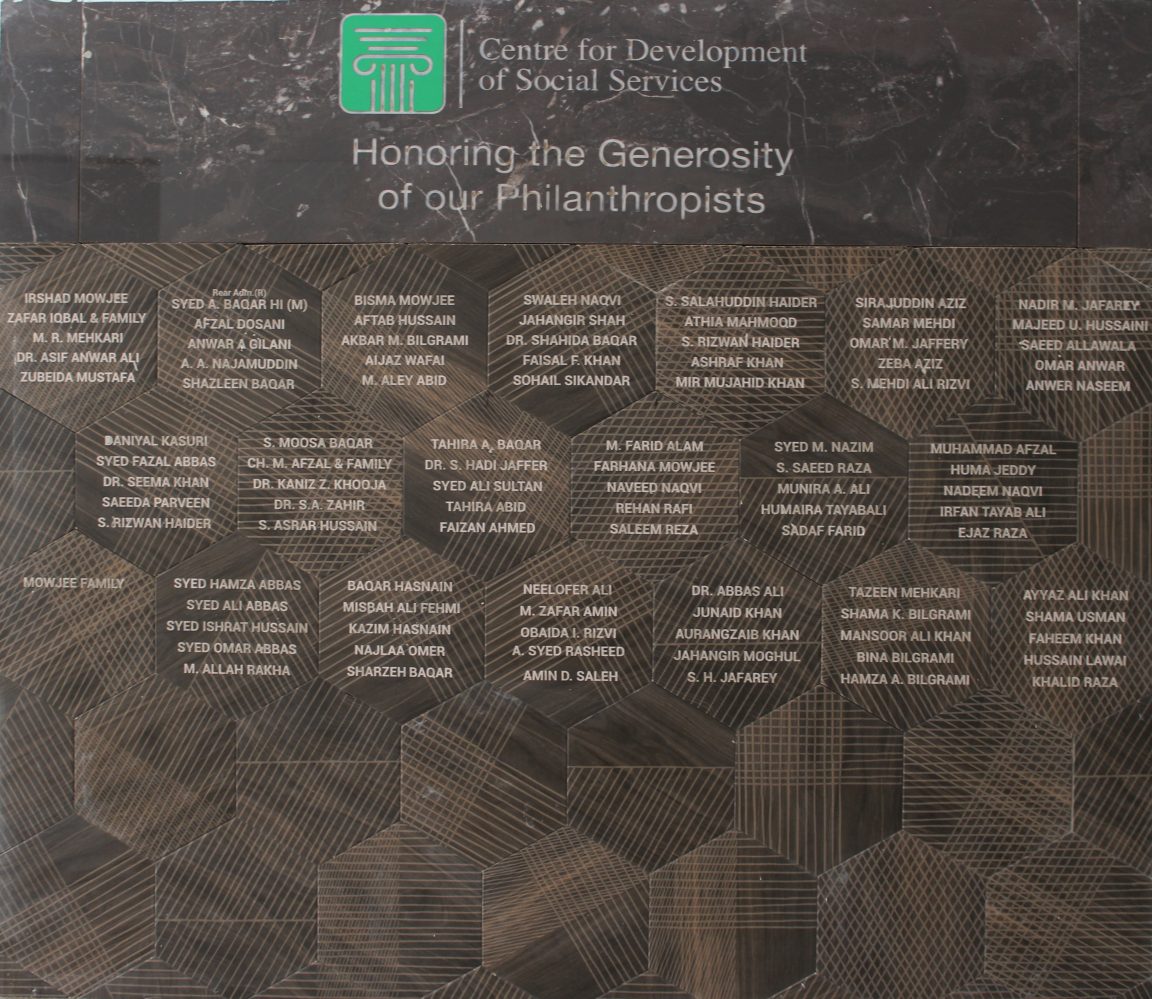 How to Donate
There are two options in which you can donate to CDSS. The first option is a Co-sponsor a Child Scheme where you can contribute half the educational cost of a student per month. The second option is to contribute to the CDSS Endowment Fund.
A) Co-Sponsor Scheme
The average cost per student per month is approximately Rs. 6,600/-. Under the Sponsor a Child scheme one student can be Co-Sponsored for one year @ Rs.3,300 per month for a period of one year with a total annual contribution of Rs. 39,600/-. The sponsors, who donate Rs.118,800/- as a Co-Sponsorship of three students, will become "Friends of CDSS". (One can sponsor as many students as conveniently possible). The shortfall of Rs.3,300/-  will be met by donation from INFAQ Foundation.
B) Endowment Fund
You can contribute towards building the Endowment Fund in multiples of Rs. 5,000/-.
Option 1 – Donate via Direct Deposit in Bank Account
Deposit your contribution directly in the following bank account

CDSS Sponsor a Child Scheme                       CDSS Endowment Fund Account No : 0005-1003890104         Or          Account No : 0005-01358511 Bank Al- Falah -Main Branch                            Bank Al- Falah -Main Branch I. I Chundrigar Road, Karachi                             I. I Chundrigar Road, Karachi  

Simultaneously a completed Pledge Form may be sent to…
CDSS Head Office AL-6, Lane-14, Off Khayaban-e-Badar, Phase-VII, D.H.A, Karachi, Pakistan.
Option 2 – Donate via Submitting a Crossed Cheque/Pay Order/Demand Draft in favor of "CDSS Sponsor-a-Child-Scheme" or "CDSS Endowment Fund" at CDSS Head Office
along with Pledge Form, may be forwarded to CDSS Head Office at:

AL-6, Lane-14, Off Khayaban-e-Badar, Phase-VII, D.H.A, Karachi, Pakistan-75500.  

For International Donors:

Swift: ALFHPKKAMBK,  Nift Code: 0005-0530001, Bank Al-Falah, Main Branch, I.I. Chundrigar Road, Karachi, Pakistan